This is probably the question we get asked the most at We Buy Campers as many people aren't aware of the full service we provide. We are a family owned business based in Shropshire with well over 25 years of experience in the motorhome trade. We've helped thousands of people all over the UK sell their motorhomes for a great price and in the shortest amount of time possible. We buy any motorhome regardless of age, make, model or condition and offer a price reflecting the true market value.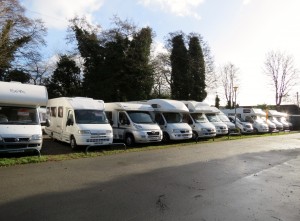 What Does the Sell My Motorhome Service Involve?
We operate out of the Lacon Holiday Park which is where we will display your vehicle at our secure site. The park gets thousands of visitors a week so your vehicle will get plenty of exposure at our secure forecourt. We also offer a full listing on the Auto Trader Motorhome site as well as on our own listings site. And, you get a full 12 month warranty when we sell your motorhome along with a full habitation check and 12 month MOT at our garage. Your motorhome will be fully insured while it's with us and we offer the most comprehensive service in the UK.
Can You Sell My Motorhome Today?
Yes! Simply fill out this "Motorhome Valuation" form in as much detail as possible and we'll be back to you as soon as possible. Our service is perfect if you owe more on finance than what dealers are willing to pay and if you don't want all the hassle involved with selling your vehicle privately. With our "Sell my Motorhome" service you can get a forecourt price for your vehicle and fast!.
So why not let the experts take care of it and get a great price for your motorhome today?
If you have any further queries please don't hesitate to get in touch with us today for more information.